Nepal Telecom is going to distribute e-SIM to its customers from today, August 31, Friday.
The state-owned Telecom Company is going to distribute free e-SIM from its counter in Sundhara, Kathmandu.
Postpaid and prepaid customers of the company who are currently using 'physical' SIMs can be changed to e-SIMs for free, said NT spokesperson Shovan Adhikari.
Customers will however need a mobile set that support e-SIM. Existing customers of Telecom who have mobile sets that support e-SIM will have to fill and submit the required form to get the e-SIM.
There is no need to change SIM card after using e-SIM. Apart from mobile sets, e-SIM can also be used in other devices and smart watches and similar devices, according to the company.
The complete form of e-SIM is an embedded subscriber identity module. Colloquially, it can also be called an electric SIM.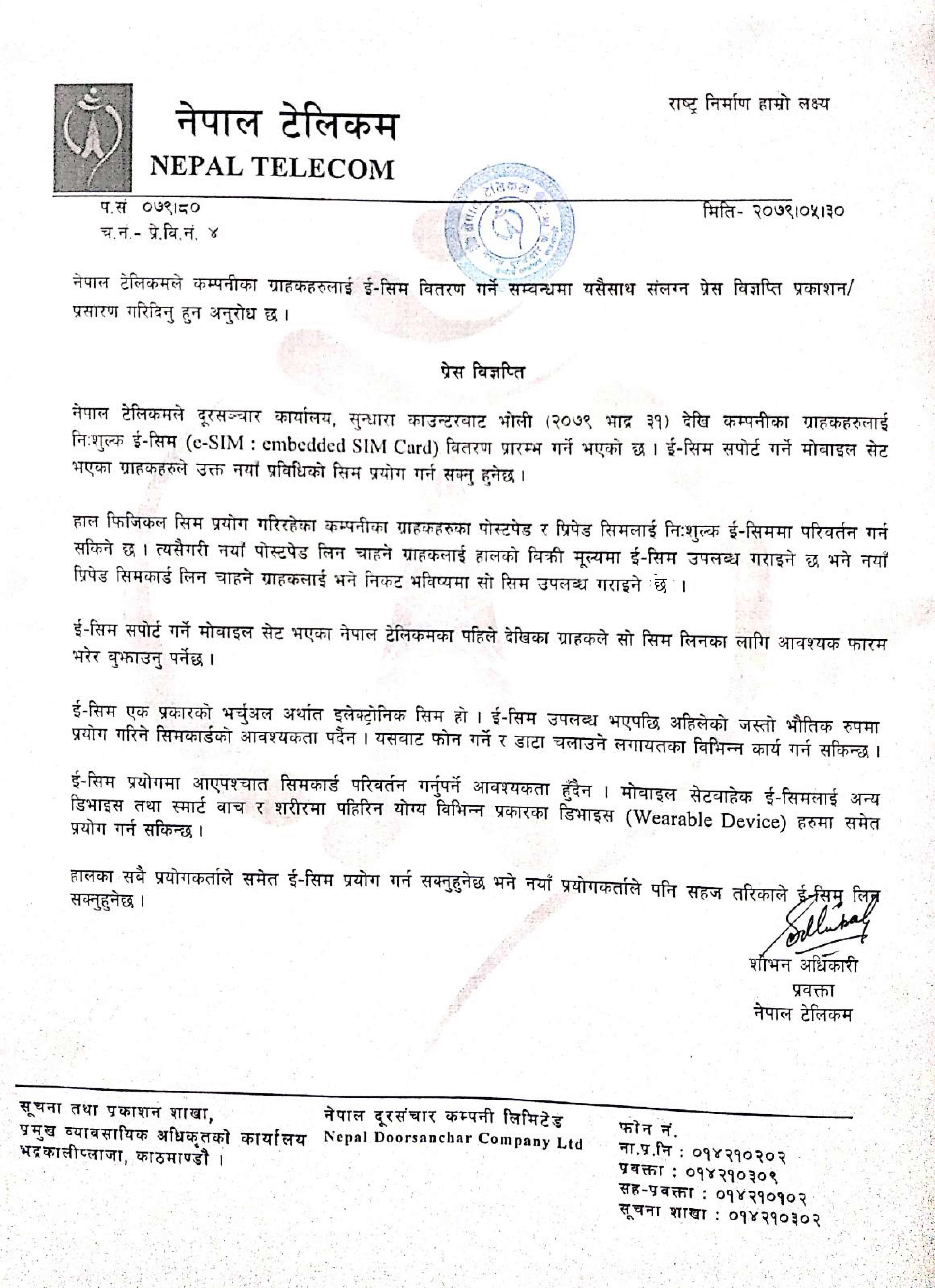 NTC's eSIM in Nepal
What is eSIM?
eSIM, short for embedded SIM, is a digital SIM card permanently embedded into a mobile device that can be programmed to connect to the cellular network of your wireless carrier.
This eliminates the need to insert a physical SIM card for you to use cellular services on your device. Traditionally, SIM cards were simple to remove and transfer between different devices, but the eSIM is non-removable.
Customers need to install their eSIM profile to their mobile devices in order to use carrier service. The eSIM carrier profile is installed onto a non-removable eUICC chip inside a mobile device.
Customers can also switch to another telecom service provider's network without physically swapping a SIM from the device by installing their eSIM carrier profile if that provider later introduces the eSIM service.
In order to use the eSIM feature, both the device and the carrier need to support it. There are only a handful of smartphones that currently support eSIM, but that number is only going to increase.
The eSIM is not limited to just smartphones, it can also be used on other devices such as wearables — including smartwatches — and IoT devices.
What are the advantages of eSIM?
As the eSIM is embedded into a mobile device, there is no need to insert or replace a physical SIM card into a device. The eSIM also makes it easier to switch networks as it can be done digitally.
The eSIM allows the user to have more than one phone number. For example, iPhone users with eSIM will now be able to have two phone numbers in a single device: one physical SIM card and one eSIM.
The eSIM also takes significantly less space than a SIM tray. So, manufacturers can use the space for other components. This is the reason even small devices such as IoT and wearables can support cellular.
Telecom companies do not have to manufacture physical SIM cards because customers can connect to cellular networks digitally. This reduces plastic waste as well as physical damage to the SIM.
What are the disadvantages of eSIM?
Although users can change the service provider or an eSIM profile (phone number) digitally, the users are not in control of the process.
With a traditional SIM card, users could simply swap the card, but with the eSIM, users need to contact the service provider.
Also, you can no longer save the contact information on the SIM card. And, there may be some circumstances when you need to temporarily use the SIM card on another phone. With the eSIM, it's not going to be that simple.
What devices support eSIM in Nepal?
As said earlier, to be able to use the eSIM feature, customers need to make sure that their device is also compatible.
The latest flagship smartphones from Samsung and Apple support eSIM. Samsung devices including the Samsung Galaxy S22 Ultra, S22+, S22, Z Fold 3, and Z Flip 3, S21 series, S20 Ultra, S20+, and S20 support eSIM. However, there are different variants, so some variants may not support it.
Apple iPhones after the iPhone XS, including iPhone 14 series, iphone 13 series, 12 series, and 11 series, all support eSIM. But if your iPhone is from Mainland China, it may not be compatible with eSIM.
And only the iPhone 13 mini, iPhone 12 mini, iPhone SE (2nd and 3rd generation), and iPhone XS from Hong Kong or Macau feature eSIM.
Online e-SIM store 'Holafly' has prepared a list of various e-SIM supported phones.
iPhone-XA including iPhone-11, iPhone-SE (2020), iPhone-12, iPhone-13 and iPhone 14 as well as Samsung Galaxy Fold, Galaxy Fold-3, Galaxy Z Flip, Galaxy S-20, S-21, S- 22, Note-20 and other models run e-SIM.

Yesbeck Huawei P40, P40 Pro, Mate-40 Pro, Motorola RAZR-2019, RAZR-Fife G, Oppo Find-3 Pro, Reno-5A, Reno-6 Pro Find G, Find X-5, X -5 pro r a-55 sma pni e-sim lgch.

Google Pixel-3, Pixel-3a, Pixel-4, Pixel-4a, Pixel-5, Pixel-6, Pixel-6a and Pixel-6 Pro also supports e-SIM.
Huawei P40 Pro also supports eSIM. There are a few more Huawei, Sony, Oppo, Google, and Motorola phones that feature eSIM but are not available in Nepal officially.
Smartwatches including Apple Watch GPS + Cellular models (Watch 3 and later) and Samsung Galaxy Watch GPS + 3G/LTE (Gear S2 and later) also support eSIM. The cellular versions of these watches, however, are not yet officially available in Nepal.